Diesel generator set is a kind of powerful power generation equipment. It can supply electric power continuously, stably and safely, so it is used as a backup and emergency power source in many fields. According to the appearance and structure, the diesel generator set can be divided into open type, silent type, truck-mounted generator, trailer mounted generator and container generator. Today, Dingbo Force will talk about the open type and the silent generator.
Open Type Diesel Generator Set
The open type diesel generator set is a generator set that is directly mounted on the metal frame or chassis that supports the machine and auxiliary equipment. The system assists in its manufacture and implementation.
The advantages of open type diesel generator set are:
Getting the parts is very easy.
Its maintenance is easier and faster.
It helps to quickly dissipate the heat generated by the machine.
The simplicity of the open diesel generator set makes it cheaper.
However, an open-type generator should be installed in the room without excessive humidity, adequate ventilation, cleaning, etc. All these functions are necessary for the normal operation of open devices.
When the generator set is installed near the inhabited area or working area, special attention should be paid to taking appropriate room sound insulation measures to comply with local regulations.
Silent Diesel Generator Set
Silent diesel generator sets usually use metal casings to protect the equipment, so it can be installed anywhere.
The main functions of the container are to protect the generator set from bad weather and other adverse environmental factors, to provide greater comfort to customers and isolate the negative effects of the generator set during operation.
The casing protects the generator from rain, moisture, dust and dirt, and provides an equipment casing to protect its components from improper handling. This allows the generator to be placed almost anywhere. In addition, with insulation, ventilation, heating and other elements built into the casing, the equipment can adapt to the cold, hot, humid and dusty environment.
The enclosure usually contains baffles to isolate sound, electromagnetic radiation and ground vibration. In short, it isolates all harmful and unpleasant effects of generator sets, so that customers can realize them as little as possible when technology allows, always complying with current regulations.
However, it must always be kept in mind that although the structure is perfect, the generator set always needs cooling, which can usually be resolved by adequate air circulation. It also needs to pass through the exhaust outlet of the exhaust muffler. Although the insulation is good, and even very quiet.
Another advantage of the silent diesel generator set is ease of transportation. In this sense, the most common form of high power generator set is the use of ISO marine containers to create the enclosure. By this model, the generator sets can be transported directly, and don't need extra shipping container for shipping.
Why choose our silent diesel generator set?
Silent diesel generators require more work and dedication in design and manufacture, which makes them more expensive to start with. But there are many advantages:
It is suitable for outdoor installation. Its packaging protects the components from water leakage.
It can access the installation site, install, connect and operate without any major requirements. This means that when it is impossible to install a sound insulation device in a specific air-conditioned room of a building, a sound insulation device is the most suitable option for outdoor installation.
If the generator must be installed in a populated area, a hospital or an emergency, this format offers a great advantage, namely its connection and preparation for safe operation, maintaining the limits of comfort and safety for users.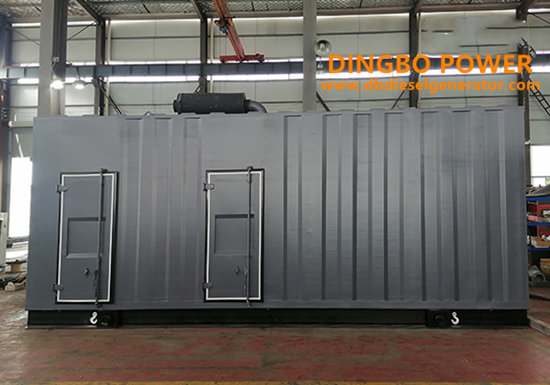 It can be equipped with the necessary controls to become part of a safe power supply. They are excellent tools for running remote utilities. For example, in renewable energy plants where there are no buildings to accommodate this equipment.
If we encounter an emergency, our silent diesel generator sets can be installed instantly and reliably and are operational anywhere in the world in the event of a power demand: health emergencies and natural disasters, and even provide reliable power to detachments or units anywhere in the world when The army needs it.
Plug and play function suitable for any type of application. All you need is fuel that can be run at full power at any time. In any case, although it is a very reliable, robust equipment that is ready to operate in harsh environments, its reliability always depends on proper maintenance. If you want to buy open type or silent type diesel generator, please contact us by email [email protected]
Media connection
The Company's name: Guangxi Dingbo Power Equipment Manufacturing Co., Ltd.
E-mail: Send an email
nation: China
website: https://www.dbdieselgenerator.com/